FAQ
Frequently Asked Questions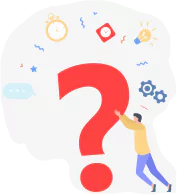 What is the difference between VoIP and regular phone service?
A regular phone line, referred to as analog, are usually limited in feature sets. Once a phone line is purchased through a carrier (phone company), more equipment has to be purchased to gain advanced features such as voicemail, auto-attendant, extensions, conferencing, intercom, and more. With a VoIP system, all of this is combined in one package. We provide you with the phone lines, and phone system features without the expensive upfront cost.
Do I keep my number?
Yes, you will keep all your numbers. We port all of your numbers at no cost.
Can I receive faxes?
Yes, we offer fax-to-email service. This feature works by sending any incoming faxes to your email. You will not need a fax machine. For any senders, they simply just send the fax to your number and will not be aware that this is a fax-to-email service.
Can I send out faxes?
Yes, we can provide you with an adapter to use for your fax.
We currently have VoIP phones, can we switch our service to Vivant?
Yes, if you are happy with your VoIP phones, we can re-program them and you can keep your existing phones.
Do you have any conference phones?
Yes. If you already have conference phones, you may use those and if not, we can provide you with conference phones.
Who maintains the system?
We do. We really mean our slogan, Telecommunications, Simplified. We maintain, update and take care of all the security of the PBX so you do not have to worry about it.
Is Vivant VoIP E-911 compliant?
Yes. We are e-911 compliant. We do ask that if you move any of our phones off-premise or any location other than the original premise, contact us to update the 911 records for that specific extension.
How to manually update weather on Grandstream phones?
To use the Weather Web Service, we need to get a code from Weather.com.
Go to http://www.weather.com
Search for your city. Example: Hialeah, FL (use the city you wish to get weather information from).
When the page has loaded for that city, check the URL: http://www.weather.com/weather/today/l/USFL0196:1:US
For Hialeah the phone will use the following code USFL0196 from the URL and enter it in the Self-Defined City Code.
The code will use US + XX + YYYY, where XX is the state abbriviation and YYYY is the city code.
Go to Settings
Go to Web Service
Select Self-Definded City Code
Enter in the Self-Defined City Code
Click Save & Apply