Internet Outages Costing You Thousands In Losses?
100% Uptime Internet &
Phone Service
Never lose another online order
due to outages
Never lose another phone call
due to outages
Never process credit cards
offline ever again
Meet SmartCONNECT™, our cutting-edge solution for 100% connectivity uptime. Losing internet and phone service for any business is detrimental, not being able to use cloud applications, answering calls, processing payments, receiving online orders, and more.
We have you covered via our SmartCONNECT™ technology that keeps your connection up even when there is an internet outage with your Internet Service Provider. Contact us to learn more.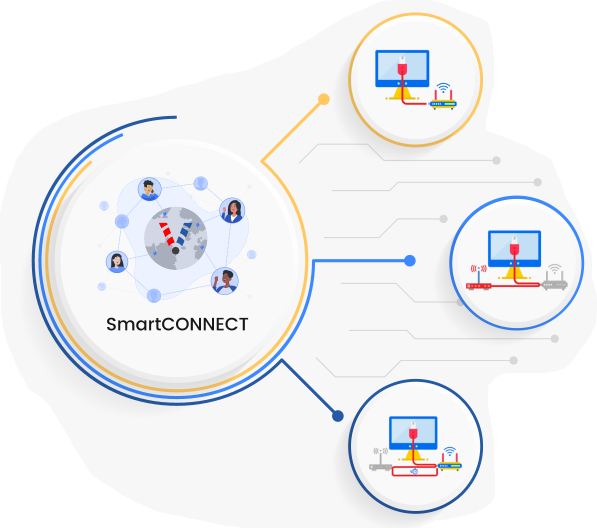 SmartCONNECT™ monitors your
primary internet connection
When there is an outage on your primary internet, SmartCONNECT™ switches your service to a secondary connection within seconds and you will not be impacted by the outage.
Once primary internet is restored, SmartCONNECT™  will monitor the connection for 5 minutes to ensure the connection is healthy and then switch back to the primary connection again.
Use Information Technology to meet your Business Objectives

SmartCONNECT™
Downtime is very expensive for any business. Have peace of mind with our 100% uptime Guarantee knowing that no matter what, your business will always be connected.

Broadband Internet
One of the most important aspects of reliable service is impeccable technical support, knowing that someone will be there to help when urgent situations arise. We stand behind our clients and clearly understand the urgency.

Network Solutions
Fully managed services give you the peace of mind that we are working around the clock to ensure you are 100% connected. We proactively monitor, manage, maintain and upgrade to ensure the highest levels of service to our clients.

Diverse Route & LTE
As industry experts, we evaluate your needs and recommend the right solution. Knowing what services to use when and where to get the most value and reliability.
Frequently Asked Questions
What happens when the primary internet goes down?
SmartCONNECT was built specifically for this reason. When your primary internet provider, for example, Spectrum, AT&T, Comcast or others, goes down for whatever reason, SmartCONNECT will automatically kick in and provide internet services to your devices such as phones, computers, POS, credit card machines and any other device requiring internet service
How does SmartCONNECT provide 100% uptime?
SmartCONNECT solution is a combination of multiple internet providers working in sync to provide 100% up-time. Utilizing two internet connections at the same time allows you to create this redundancy.
Are there any limits to SmartCONNECT service?
There are some limitations. SmartCONNECT basic version is designed to be cost-efficient for everyday small businesses. It is not designed to be used as a primary source of internet. There are some bandwidth limitations with SmartCONNECT but your sales rep can guide you through this.
For larger companies with more than 20 users, we do offer an advanced option of SmartCONNECT SD-WAN.
Does it work with my current internet provider?
Yes! We support both customer-provided internet service and vivant-provided internet. The advantage of Vivant-provided internet is that you will not have to call your primary internet provider.
Since we pro-actively monitor all of our SmartCONNECT devices, when a primary internet goes down, our support team will automatically open a case with primary provider to resolve the issue vs the customer having to take on the burden
Does SmartCONNECT cut off services after a time or data limit?
No, unlike other providers, we do not cut the service off after 8 hours of usage or certain data limits. Our customers understand that it is better to have a fully operational internet service to get business done and reduce the stress on staff.
Who do we contact for support?
For all support-related matters, please contact our support team. If you have a Vivant-provided internet, our support team will be able to help you with this as well. 
LEADING MANAGED SERVICE PROVIDER
Partner with Vivant to bring you the latest and most reliable solutions in the industry. We are always looking for more innovative ways to reduce cost, create efficiencies and innovate. As subject matter experts, you can always trust that the designed solutions will exceed your expectation, save you money and make your operation more efficient.